Washington Post coverage of the New York Initiative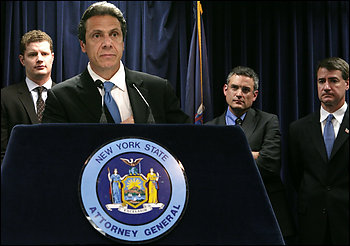 New York Attorney General Andrew M. Cuomo, at the podium, is joined at the announcement by, from left, Matthew Sullivan of Sprint Nextel, Jeff Zimmerman of Time Warner Cable and Tom Daly of Verizon.
Internet Providers Agree To Block Child Pornography: Internet Providers Agree To Block Child Pornography – Deals Cast Telecom Firms as Censors
By Peter Whoriskey, Washington Post Staff Writer, Wednesday, June 11, 2008; A01
Three of the nation's major Internet service providers have agreed to block customer access to newsgroups and Web sites that offer child pornography, according to an agreement announced yesterday by the New York attorney general's office.
The agreements, which were hailed by child-welfare advocates as a significant step, push the service providers to take a more active role in monitoring what takes place over their lines.
But by forcing providers to act as censors, the agreements may also violate the First Amendment, free-speech advocates said.