This is to confirm that YouTube is still blocked in Turkey as of 15:23 GMT on 27.08.2008. As I suspected local and worldwide news reports are wrong to report that a court order banning access to YouTube has been lifted. A dubious press release by the Telecommunications Authority (only in Turkish) confirmed this today as well as an interview with the head of the Telecommunications Communication Agency (only in Turkish).
I am not sure why no one bothered to check whether access to YouTube is available from within Turkey or not. As can be seen below access is still denied and the order of Ankara First Criminal Court of Peace dated 05/05/2008 of 2008/402 remains.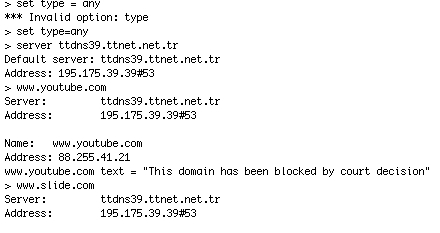 What I can confirm is that as of 18 August 853 websites are blocked in Turkey. 241 of these are blocked by Court orders and 612 by administrative blocking orders issued by the Telecommunications Communication Agency. All the administrative orders are to do with the new Internet Law No. 5651 and with regards to the catalogue crimes listed in article 8.