There are several news items which state that the Turkish court lifted the youtube ban but as of today (26.08.2008) YouTube is still not accessible in Turkey.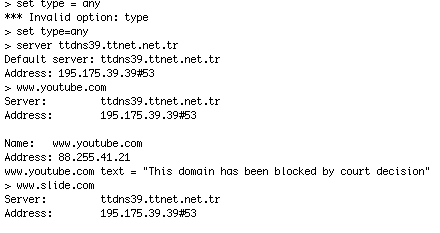 Turkish court lifts YouTube ban after online censorship protest | World news | The Guardian: "Turkish court lifts YouTube ban after online censorship protest
Robert Tait in Istanbul, The Guardian, Tuesday August 26 2008"
A court in Turkey has lifted a ban on YouTube, the video sharing website, after hundreds of sites voluntarily blocked themselves in protest at growing internet censorship.
Access to YouTube had been blocked since May in the latest of a series of bans triggered by the posting of videos deemed insulting to Mustafa Kemal Atatürk, founder of the modern Turkish state.
Two previous bans have also been lifted but the latest decision comes after 412 web and blog sites, including the Turkish-English dictionary site, zargan.com, participated last week in an online protest.
They shut themselves temporarily after campaigners revealed that 853 websites in Turkey had been blocked as a result of court orders. Organisers said many of the orders were arbitrary and risked creating a climate of rising censorship.
Users clicking on to many of the protesting sites' web pages were greeted by a message reading: "The access to this site is denied by its own decision." This was a reference to the official message greeting those trying to access banned websites, which reads: "The access to this website is prevented by court order."
The bans on YouTube and other sites have hurt Turkey's image at a time when its restrictions on free speech are under scrutiny owing to its EU membership bid.
Websites can be blocked under Article 5651 of the Turkish penal code for a range of offences including insulting Atatürk, child pornography and encouraging suicide.
Turkey first banned YouTube in March last year after Greek users posted videos alleging that Atatürk was homosexual.